Gay and Gary

Click on their names for Picture Updates

LATEST news:
Gay has opened her own counseling office. She has officially hung out the shingle and is seeing clients. You can visit her on the web at www.psychsynergy.net or email her at gstrakshus@psychsynergy.net
Gary has just won first place in the Arkansas Tri-Athlete Competition. This competition included 8 miles of kayaking, 8 miles of running and 20 miles of biking. He beat his trainer by a full 3 minutes. How does he do it?
And meet Ellie their new yellow lab - a real sweetheart.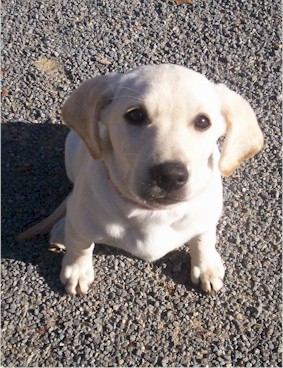 Gary made the news again! Read all about it in the "Tour de Trash" article in the Arkansas Democrat Gazette
Gary was named winner of the American Hiking Society Volunteer of the Year Award for the state of Arkansas.
Gary has been a member of the Hot Springs Bicycle Association since 1996 and has been volunteering his time ever since, working on projects such as trail maintenance, kids rodeo, helmet drive, recycling and organizing two annual mountain biking events. Gary will be presented with his award at the Quachita National Forest's Annual Trails Day on June 2, 2001. Congratulations Gary!!
Gary continues to be very involved in mountain biking. He is working with the United States Forest Service to volunteer his biking group to assist in the clean up of the trails in the National Forest (where his Womble Trail and Little Blakely trails are) and in the National Park (where he would love to get permission to ride, but hasn't been able to so far).
This Spring, Gary directs a mountain bike race on the Womble Trail which is near Mt. Ida, a community 30 miles west of Hot Springs. This trail is in pretty bad shape due to the ice storm we had in late December. "It looks like a war zone," is what people say, and they are right. There's a lot of work to do.
Gary is looking forward to his annual trip to Moab, Utah, where several of Gary's friends go to enjoy the good mountain biking. He also enjoys Jennifer and Heather's hospitality in New Mexico. He usually spends a day or so with Jennifer and Heather riding in the Sandia Mountains before heading to Utah.
Gay is still working as a hospital social worker at St. Joseph's. She got a bit of a promotion recently and is now a team leader in the Case Management Department. So far, so good.
Gay's year as Social Worker of the Year ends this March at the annual conference of Arkansas National Association of Social Workers. As soon as Gay was named SWOY, she was approached to serve a Vice-President on the AR-NASW board. Vice-President has worked out to be a pretty nice job, so far. She will serve another year in this capacity.
Gay is looking forward to going to England with her St. Luke's Episcopal Church choir in June. (Alexis has taken her up on the offer to go along). The choir plans to sing in Cantebury, Westminster and St. George's cathedrals, as well as listen to Kings College Cambridge sing Evensong. It is shaping up to be a trip of a lifetime.
Love Gay